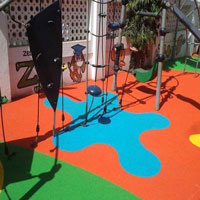 We are a leading dealer/wholesaler/distributor of EPDM Rubber Flooring in Delhi. We are also leading importer and supplier of EPDM Rubber Flooring in Delhi.
coflex Colour EPDM rubber granules are the materials with high elasticity. The granules are mixed into EPDM rubber playground to avoid the reflection of strong light and can be matched in multiple colours. The plastic playground mixed with special coloured rubber granules will not be depigmentized, pulverized or softened by UR ozone and acid rain and can keep fresh colours for a long period.
Colour EPDM rubber granules are numerous in variety. The rubber floor tiles are made by mixing and stirring anti­chemical Pharmaceuticals and molding the materials that consist of EPDM rubber granules other special adhesive agent,pigment, catalyzer ageing resisting agent and UV absorption agents. The floor tiles have varied elegant colours, moisture-proof, shock-proof, anti-satic permeable to air, wearable for distortion and easy for cleaning. Colour EPDM rubber granule are the first chouce of supplementary Materials for moisture-proof, shockproof and antistatic materials.